It's Raining Ombré: How To Use Ombré in Your Paper Crafts
If you feel like the ombré trend exploded overnight, you're not alone. Ombré effects have been used in select fields for centuries, but nowadays, ombré is used in a variety of creative pursuits, from fashion design and hairstyling to graphic design, the culinary arts, and paper crafting.
Ombré is more than just a passing fashion – it's here to stay, and it's easy to see why. Ombré effects are simple and eye-catching, they suit almost any design, and they can be totally customized to suit your color palette.
What is Ombré? 
Ombré, pronounced like "ohm-bray", is a French term meaning "shaded". The term describes the gradual blending of one color into another, usually by shifting tints and shades from light to dark to create a monochromatic look.
"Ombré" also describes two or more colors that gradually blend together in a gradient effect. Transitions can be distinct stripes of differently shaded or tinted colors, or they can be a smooth progression.
12 Ombré Paper Crafts Anyone Can Make  
Historically, ombré was primarily a method of dyeing fabric. Today, ombré is used widely in a number of fields, including paper crafting.
To help get you inspired, we've compiled a list of our favorite ombré paper crafts. Take a look:
1.  Create ombré accents using paper
Autumn Baldwin at Creating Keepsakes created a lovely autumn effect by cutting out leaf shapes in ombré-toned papers and arranging them vertically down her page. You can re-create this look using any shape and color palette you like. Try using flowers, raindrops, or any other die cut shape you like!
2.  Mix up your media
Decorate homemade cards and scrapbook pages by using ribbon, buttons, or other embellishments in ombré shades. If you don't have a wide selection of colored ribbon available, try dying your own using spray mists or inks.
3.  Stamp it up
Repeat the same stamped image using gradually lighter or darker shades. This technique is perfect for creating grid-patterned backgrounds and embellishments without overwhelming your reader's eye.
4.  Create an ombré background using inkpads
Watercolor paper is perfect for creating your own, totally customized ombré pattern. Watch this video to learn two easy techniques for using inkpads to create ombré:
5.  It's raining ombré
This paper mobile turns the classic ombré effect into a cascade of colors. Customize the colors for your space or theme or switch up the shapes to suit your needs.
Here's how to create your own ombré paper mobile.
6.  Dress up your trash can
Give this under-appreciated household workhorse a makeover using paper!
Learn how to make your own ombré trash can.
7.  Combine ombré with chevrons
This simple, clean ombré artwork is easy to create and will look perfect in any space. Simply choose a few colors, cut some strips, and start braiding your paper. You'll have a lovely piece of art in no time.
Follow this tutorial to get started.
8.  Party time!
Create this beautiful ombré paper backdrop for your next party and get ready for infinite selfie and photo requests. It's easy to make and it looks stunning.
Boots and Cats shows you how to make her ombré paper backdrop.
9.  Garland galore
This simple paper garland is deceptively intricate. It looks fancy, but anyone can create it using a few simple tools.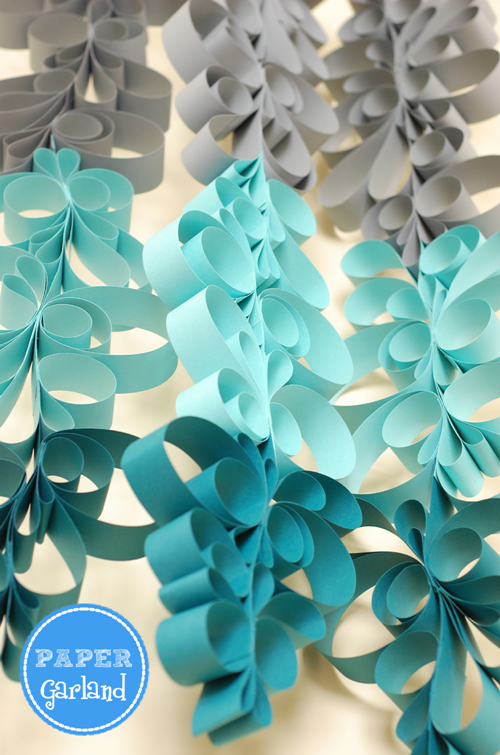 Get the instructions on Bird's Party.
10.  Delightful dahlias
This ombré dahlia wreath is a great way to add a punch of color to your front door or any space in your home. Try creating a monochromatic effect like Julia at Stars and Sunshine has done, or blend multiple colors together to match your garden.
Follow Julia's instructions to make your own ombré dahlia wreath.
11.  Ombré paper earrings
We love when paper and fashion come together, like they do in these adorable ombré paper earrings.
Create the perfect accessory for any outfit by following this easy tutorial.
12.  Dip-dyed stationery
Add an ombré effect to plain white notecards and envelopes to create a simple but striking homemade greeting card.
Follow Clever Bloom's instructions to learn how. Try using these blank notecards:
4 Tips for Using Ombré in your Paper Crafts 
There's no right or wrong way to use ombré, but there are a few ways you can use it to make your designs and paper crafts truly stand out. Here are a few tips for using ombré:
For a clean, simple look, use one color. The monochromatic look is always in style, and it will prevent your design from becoming overcomplicated.
Don't worry about creating a perfect gradient. As long as the shading is gradual, your lines don't have to be perfectly straight. Your blending doesn't have to be perfect either – in fact, a few imperfections can actually add to the appeal of the ombré effect.
Instead of including gradually shaded elements, try incorporating multiple elements in different shades of your ombré color or colors. For example, you could use a light colored background, dark photo corners, and embellishments in a range of medium tones.
For more drama, transition from a dark, saturated hue to bright white. For a more neutral look, use shades with lower contrast.
Oh My, Ombré! 
Ombré effects are easy to create, and they complement almost any shade or project. Experiment with ombré by trying one of our favorite paper crafts or by simply incorporating gradually shaded elements into your homemade cards, scrapbook pages, or DIY décor. And don't forget to share your crafts with us – we love to see your creations!