.JPG, .EPS, .PSD, Oh My!: Common Design File Types Explained
Gone are the days when the only file types were hand-drawn graphics or simple pieces of paper fed through a typewriter. In today's digital world, file types abound – and they can be confusing.
To help take the mystery out of the bewildering array of file type acronyms, we've created a list of common file types and their uses.
Page Layouts
Page layout files are concerned with the arrangement of different visual elements on a page, such as an annual report or magazine advertisement. Page layouts usually incorporate principles of composition to communicate a specific message.
.DOC and .PDF files are the two most common page layout file types.
.DOC – WordPad or Microsoft Word Document
.DOC files are word processing files that contain formatted text, images, tables, graphs, charts, custom page formatting, and print settings. They're most commonly associated with Microsoft Word.
.DOC files aren't strictly design files, but they're so ubiquitous they deserve an explanation. They're like that annoying relative you inevitably run into at every family gathering – no one can avoid a .DOC file forever.
 .PDF – Portable Document Format
.PDF is a universal file format that retains the typefaces, images, and formatting of any source document, including .DOC files. .PDF files can be opened on almost any computer – all you need is Adobe Reader software.
If you're sending a resume or complicated text-based document to a potential employer or client, save the file as a .PDF. That way, you won't lose the custom formatting you spent hours perfecting.
.PDF files are the preferred file type for magazine print ads.
Rasters
Raster files are comprised of a set of grid dots called "pixels". Each pixel is assigned a color value.
Raster files are resolution dependent, which means that when you resize the image, you either shrink or stretch the pixels. That's why you lose image quality when you resize any of these file types.
.JPG – Joint Photographic Experts Group
.JPG files are one of the most common image file types. They are compressed image files commonly used for photos, but which are also acceptable for logos and advertisements.
The level of compression affects the .JPG's image quality. The more compressed the image is, the more the quality of the image is reduced.
Some photo editing programs like Adobe Photoshop let you choose your image quality. High quality .JPGs are recommended for desktop printing, medium quality is recommended for web viewing, and low quality is acceptable for emailing.
Pro tip: use 72 dpi (dots-per-inch) for web or RGB images, and 300 dpi for print or CMYK images.
.PSD – Photoshop Document
.PSD files are graphics or photos created exclusively in Adobe Photoshop. .PSD files cannot be opened in any other application, though you can save them as a variety of other file types that can be opened in other applications, including .PDF, .JPG, .GIF, and .PNG.
.PSD files allow for multiple layers and transparent backgrounds. Because of their versatility and the wide range of edits they allow, this file type is commonly used by printers and designers.
.GIF – Graphics Interchange Format
Whether you pronounce it as "giff" or "jiff", .GIF files are always low resolution files typically used on the web and in emails. Because of their low resolution, .GIF files are small, which makes them ideal for web use.
Like .PSD files, .GIF files allow for transparent backgrounds
.PNG – Portable Networks Graphic
Like .GIF files, .PNG files are commonly used for online design or websites because of their low resolution. They were created as an improvement on the .GIF file – like a .GIF, .PNG files allow for a transparent background, but they are a higher quality image.
.TIF – Tagged Image File Format
.TIF files are typically used for storing images, photography, or art, usually in a professional environment or by a commercial printer. .TIF files are large in size but they're very reliable, which makes them the standard format for high quality images.
Vectors
Vector files are made using geometric shapes and patterns like points, lines, and curves. The relationship between geometric shapes is expressed as a mathematical equation, which allows the image to be resized without losing image quality.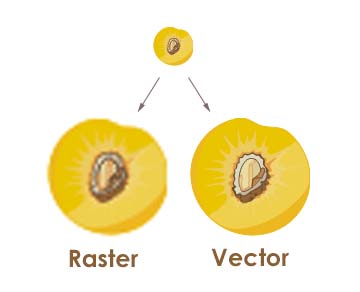 Vector files are the preferred format of printers and other creatives and graphic designers.
.AI – Adobe Illustrator
.AI files can only be opened using Adobe Illustrator, but they are the most reliable file type for a variety of both web- and print-based projects.
This file type is commonly used by designers and commercial printers to create files in different formats and sizes, and is often used to create high resolution logos that can resized for any use without losing image quality.
.EPS – Encapsulated PostScript
.EPS files are typically used to transfer an image or artwork into another application. They are versatile files that can be used in most common photo editing programs, including Adobe Illustrator, Freehand, and Adobe Photoshop.
.EPS files are also scalable to any size, so they are often used for large-format printing, such as signs, banners, and billboards.
File It Away
Understanding the subtle distinctions between different file types will help you choose the ideal format for any project.
Click here to download a free printable version of this post. File it away with your other design resources, or hang it in a place of honor on your wall!
---
Sources
Bourn, Jennifer. "Common Graphic Design File Formats Explained." Bourn Creative. December 21, 2009.
"Graphic Design File Types." Breakaway Graphics.
Nichols, Jessie-Lee. "How And When To Use Different Types of Image Files." Hubspot. November 14, 2013.
Stuart, Allison. "The Difference Between Vector and Raster Images." 99designs. September 17, 2014.
Stuart, Allison. "File Formats Explained: PDF, PNG and More." 99designs. November 10, 2014.