16 Paper Christmas Ornaments to Dress Up Your Holiday Tree
Setting up your Christmas tree is the surest sign that the festive season has arrived at last. From stylish, color-coordinated trees to whimsical trees adorned with family favorites, when it comes to decorating this Christmas centerpiece, the options are endless.
DIY decorations are an easy and cost-effective way to trim your tree, and they can be easily dressed up or down to suit your unique style. Whether you're planning an elegant, opulent tree bedecked in glittering silver and gold decorations, or are looking for a fun Christmas craft to keep your kids occupied while you tackle your holiday to do list, these paper decorations are the perfect way to add some homemade charm to your tree:
1. Folded paper pinecones
These accordion-folded paper pinecones by DIY Inspired are easy enough for your kids to make, but fancy enough to dress up luxurious trees as well.
You'll need 12×12 card stock to make these pinecones:
2. Pinecones 2.0
These glittering metallic paper pinecones by Lia Griffith are a delightfully delicate alternative to the simple accordion-folded option.
Lia's creations feature metallic paper, but she suggests making them in traditional Christmas colors or even unconventional bright colors like teal or hot pink:
3. Victorian Paper Fan
Add a touch of classic grandeur to your tree with these gorgeous Victorian paper fans.
Make your own using this tutorial from The Kim Six Fix. You'll need 12×12 cardstock:
4. Origami Stars
This simple origami stars are easy to make, and will keep your kids occupied for hours:
You'll need 8 pieces of light, foldable paper to make these stars:
Find the instructions on Just Christmas Crafts.
5. Kraft Paper Foot and Handprints
Make memories that will last a lifetime with these cute Kraft paper ornaments by Eighteen25.
Dress up your foot and handprints by turning them into reindeer, snowmen, and Christmas trees. A heavy Kraft card stock will stand up well to the paint:
Get the tutorial on Eighteen25.
6. Paper Houses
These Scandinavian-inspired paper houses look lovely when illuminated by the lights of your Christmas tree.
We recommend using white cardstock:
Get the instructions and cutting files from Lia Griffith.
7. Geometric Paper Ornaments
These geometric ornaments are a great way to use up the scraps of paper and ribbon hanging around your craft room.
Learn how to make them from Chatelaine.
8. Paper Strip Christmas Tree
These simple sewn trees and snowmen are another fun way to use up your assorted colors:
Find the instructions from Elsie Marley.
9. Paper Globes
These paper strip globes are a kid-friendly, non-breakable alternative to traditional round glass ornaments – and they're adorable to boot!
Adapt them to your style by using different colors of cardstock:
Get the tutorial from Nalle's House.
10. Starburst Snowflakes
All you need is printer paper and a stapler to make these simple starburst snowflakes.
Dress them up by using holiday colors, or whatever palette fits your scheme this year. Try these shades:
Get the instructions from How About Orange.
11. Paper Pinwheels
Dress up this classic paper craft and hang these holiday-inspired pinwheels on your Christmas tree:
These papers are great options for these pinwheels:
Get the instructions from Better Homes & Gardens.
12. Quilled Wreath
Another BHG creation, these simple quilled wreaths are the perfect way to put your crafting skills to test his holiday season.
You'll need white, green, and red paper:
Learn how to make them here.
13. Filled Glass Ornaments
Pick up some empty glass ornaments and fill them with curled paper strips in your favorite holiday colors.
Get the tutorial from Christy Robbins.
14. Origami Flower Balls
Anyone can make these deceptively intricate origami flower balls! They take a lot of paper, but they look amazing, and they're easy to fold.
Get the instructions from Find Inspirations. Use a lighter paper so they're easy to fold:
15. Dangling Gems
Add some geometric charm to your holiday tree with these simple paper ornaments by How About Orange:
Make your dangling diamonds shimmer using metallic paper, or use bright colors like How About Orange:
Find the instructions here.
16. Paper Rings
These super simple paper rings are a great kids craft. Simply bend a paper strip and hold it in place with a fun bead and some holiday-inspired ribbon!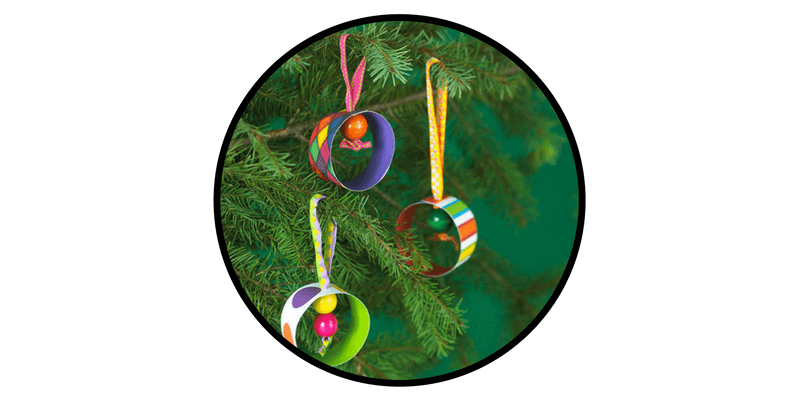 Get the instructions from BHG.
Christmas is Coming
Fill in the empty spaces of your holiday tree, add some DIY charm, or simply keep your kids busy when these easy paper Christmas ornaments.
Get more holiday inspiration: