16 Halloween Paper Crafts, Decorations, & Activities
The spookiest night of the year is just around the corner! Whether you're busy putting together your kids' Halloween costumes, your own frightening ensemble, or designing this year's Jack-O-Lantern, there are tons of easy ways for you to decorate the rest of your house – or simply keep your kids busy while you put the finishing touches on everyone's scary duds.
Crafts
If your house is always the scariest one on the block, chances are your decorations are already covered. But if you just love Halloween and can't get enough of the spooky spirit, there are lots of other easy paper crafts you can make at home just for the fun of it. Here are some of our favorites:
1. Tabletop Paper Lanterns
Set the scene with these ghostly paper lanterns by Lia Griffith. They're perfect for tabletop decorations or centrepieces.
Lia used metallic black cardstock and white vellum to create her lanterns. Just be sure to use a battery-powered tea light!
2. Hanging Paper Lanterns
Try hanging these easy paper lanterns in your entryway, from your chandelier, or outdoors on your porch. All you need is black cardstock and translucent orange vellum, plus some simple crafting supplies.
Learn how to make your own hanging lanterns.
3. Cute Paper Skeleton
This little guy is the perfect addition to your Halloween decorations! Put him on your table, your desk, or build a new buddy for your kids to help get them into the Halloween spirit.
All you need is white cardstock. You can download the template here.
4. Downloadable Embellished Letters
Add some Halloween flair to your scrapbook pages, homemade cards, and other paper crafts with these free downloadable letters.
Download them here.
5. You've Been Boo'd Printable Set
Surprise your friends and loved ones with these cute printables! Simply print out the set, throw some treats into a brown paper bag, and give your loved ones a sweet Halloween treat.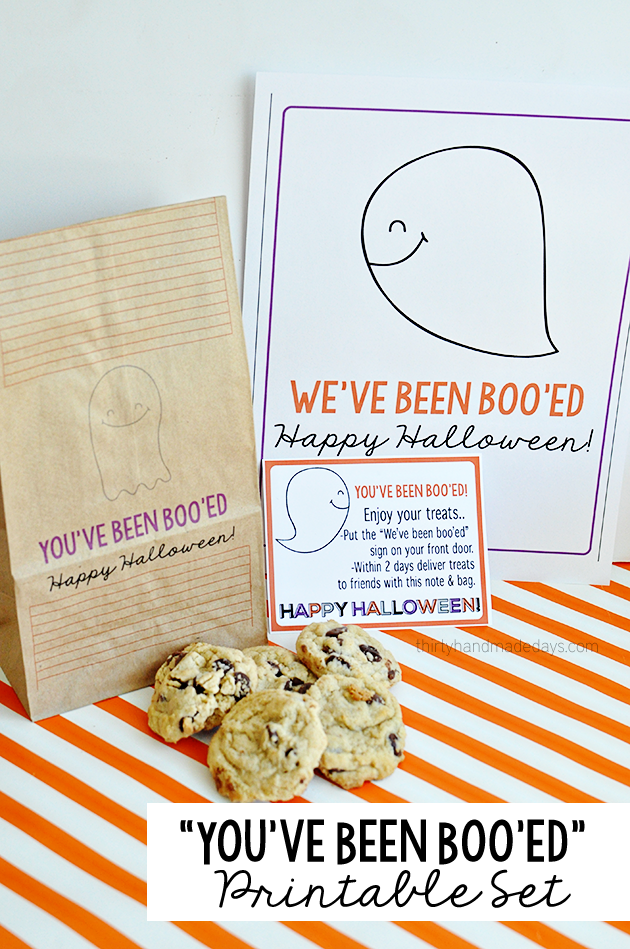 Download the printables from Thirty Handmade Days.
Decorations
No party required! These decorations will add some easy spooky spirit to your home.
6. Paper Mice
No one wants mice in their home – unless they're made of paper.
Learn how to create your own using this tutorial from Martha Stewart. Try using this black cardstock.
7. Paper Chains
This Christmas classic is getting a Halloween-themed makeover!
Download the templates and get ready to drape these spine-chilling paper chains all over your house. Try using this paper.
8. Halloween Banner
This banner is perfect for any Halloween party.
Learn how to create your own. Try using this black and orange cardstock!
Paper Pumpkins
Pumpkins in any form are a Halloween classic. Skip the mess of carving your own, or go pumpkin crazy with these easy paper options.
9. Curly Paper Pumpkins
These curly paper pumpkins are a little artsy, and they look great hanging from your ceilings or walls.
Here's how to make them.
10. Rolled Paper Pumpkins
These rolled paper pumpkins are a little more robust than the Curly Paper Pumpkins, but they're still easy to make using only orange, brown, and green cardstock.
Follow this tutorial to learn how to make your own.
11. 3D Paper Pumpkins
These softball-sized paper pumpkins are perfect for your Halloween tablescape, desktop, or for anywhere you want to add a bit of Halloween spirit! Watch this video to learn how to make your own.
Crafts & Activities for Kids
Whether you need to keep your kids busy while you get your Halloween on, or whether your kids are just as into All Hallow's Eve as you are, these activities are sure to keep them busy and get them pumped for the festivities to come.
12. Shadow Puppets
There's nothing creepier than a spooky shadow lurking just around the corner! These shadow puppets may not be as scary, but they are tons of fun.
Here's how to make them. This black cardstock is perfect!
13. Paper Lanterns for Kids
You can never have too many paper lanterns! Get your kids in on the action with this easy option.
They're super simple to make – here's how.
14. Halloween Mad Libs
Who doesn't love mad libs? These Halloween-themed mad libs are fun for the whole family.
5. Printable Masks
You don't need to wait till the 31st to dress up! These easy printable masks are the perfect way to get into the dress-up spirit.
Download over 100 free printable masks here.
16. Haunted House Cut Out
Get creepy and creative this Halloween – let your kids create their own haunted house with this cute cut out.
Follow this tutorial and set your kids loose!
Boo-tiful!
These easy DIY crafts, decorations, and activities are a great way to get your whole family into the Halloween spirit – not that the promise of candy, costumes, and revelry isn't enough.