14 New Year's Eve Party Games and Activities
During the inevitable rush to prepare for Christmas and in the aftermath of the big day, it's easy to forget about New Year's. It doesn't matter whether you've been planning your NYE bash for months or if you're simply putting together an impromptu shindig – New Year's Eve is always one of the most fun and festive nights of the year.
If you've left your party planning a little late this year, don't fret! We've got you covered with 14 fun and easy party games and activities. Plus, we're sharing our favorite NYE decorations at the bottom of this post, so stay tuned!
1. Last Minute Invitations
Throwing a spontaneous party? Don't skip the invitations! These printables by Lia Griffith are perfect for last-minute soirees.
Download the printable from Lia Griffith.
2. Planning Checklist
Left your planning a little late this year? Make sure you don't forget any pre-party tasks with this printable checklist:
Download the checklist here.
3. Memories of 2016
Wax nostalgic for all the good things that happened in 2016 with this printable game.
Download the prompt cards from Classy Clutter.
4. Bingo
Who doesn't love a good game of Bingo? This classic game is perfect for your NYE party.
Download the printable Bingo cards from Flavorwire.
5. Printable Minute to Win It Games
Get the party going with these fast, fun Minute To Win It games by the Dating Divas.
Get the games from the Dating Divas.
6. NYE Mad Libs
Get ready for uncontrollable fits of laughter! Mad Libs are always a party game winner, especially around New Year's.
Download your own printable Mad Libs from the Dating Divas.
7. New Year's Resolutions Mad Libs
Do you have a New Year's resolution? Find out what your friends have planned for 2017 with these alternative printable mad libs from the Idea Room.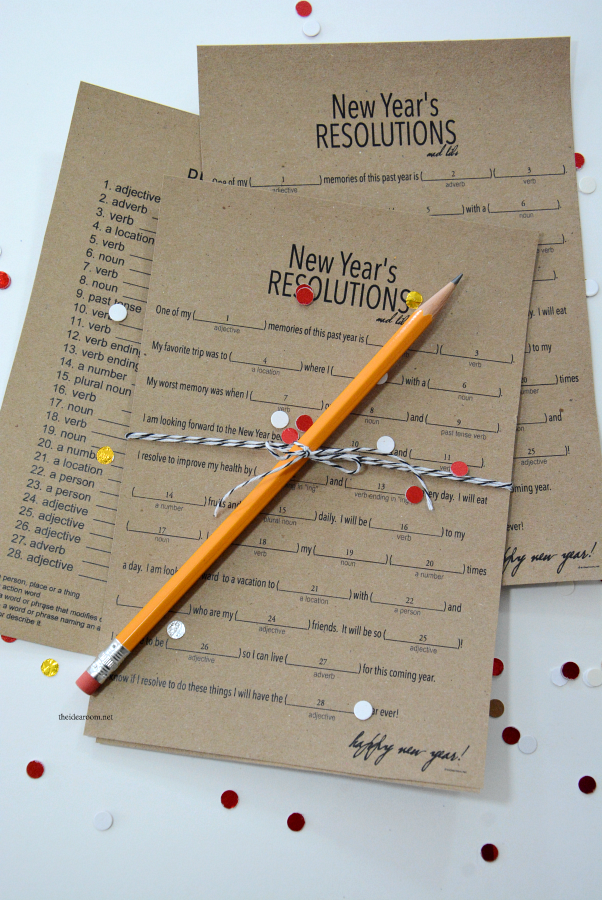 Get the printables here.
8. 2017 Photo Props
These free printable photo props are the perfect addition to any NYE party! Keep your camera handy so you can snap silly photos of your guests all night long.
Download the printables from Party in a Cinch.
9. Sparklers
Who doesn't love sparklers? Try handing out bunches of sparklers wrapped in this cute printable wrapper – after your midnight champagne toast, of course!
Download the printables from Lil Luna.
10. Countdown to Midnight
Countdown to midnight with fun-filled party bags courtesy of the Dating Divas!
Download the printables and follow this tutorial.
11. DIY Pinata
Work out the stresses of 2016 with this DIY NYE pinata by Lia Griffith. Fill it with beads, candy, or anything you please!
Create your own with this tutorial by Lia Griffith.
Activities for Kids
Got kids coming to your party? Make sure they have a smashing NYE with these games and activities:
12. Scavenger Hunt
Keep kids entertained all night long with this NYE scavenger hunt.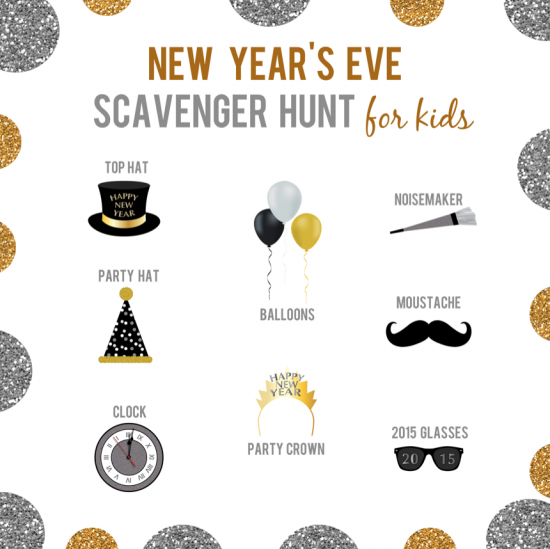 Download the printable hunt from Reasons to Skip the Housework.
13. Colorable Party Hats
Get ready to see (and wear!) some real NYE masterpieces with these colorable party hats:
Get the printables from Happiness is Homemade.
14. NYE Eye Spy
Who didn't love I Spy books when they were younger?
Download the printables from Simple Play Ideas.
The Countdown is On!
New Year's Eve is approaching fast. If you're still planning your party, don't panic! We've got you covered with some of the best (and most affordable) party games.
For more great ideas, check out our other NYE posts: