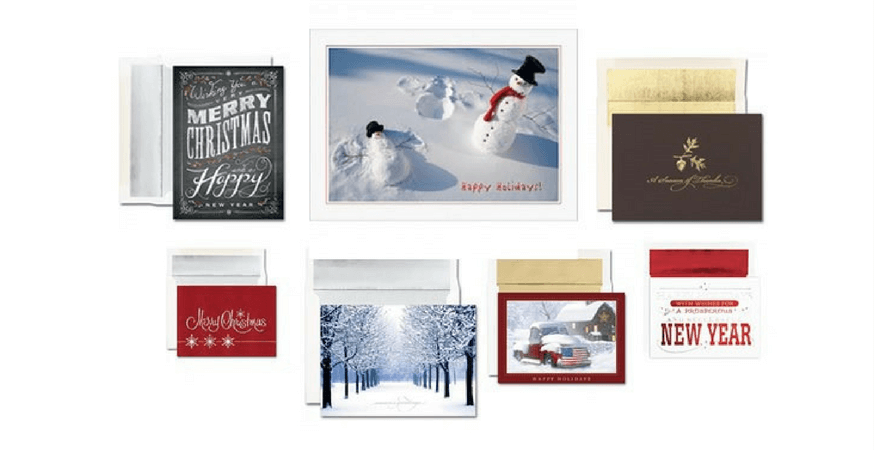 18+ Holiday Cards for People with No Time to Spare
The holidays are a busy time. Between shopping for gifts, planning your menus, decorating, and getting everything wrapped ahead of the big day, it can be hard to find the time to send holiday cards.
If you have a lot of cards to send, creating each greeting by hand and writing a personalized message for each recipient can be immensely time consuming. Not everyone has the time (or, let's face it, the skill) to DIY their holiday greetings, and that's okay! Pre-made holiday cards can save you a lot of time, and they'll still show your loved ones that you're thinking of them this festive season.
TIME SAVING TIP: If you love to make all your greetings by hand but simply don't have the time to craft a handmade card for each person on your holiday mailing list, try DIYing cards for your closest friends and family, then using a pre-made card for the rest of your mailing list. Check out these easy homemade cards for some DIY inspiration.
To help you find the perfect holiday card for the coming season, we're showcasing some of our favorite greetings. Take a look:
Versed Cards
Versed cards include a printed greeting in the interior of the card. All of these cards are available in our holiday shop, and they each come with a coordinating envelope (some with a festive foil lining)! All you'll have to do is add a quick message of well wishes and sign your name.
Here are our favorites:
Don't see something you like? Head to our holiday shop to find more versed cards.
Unversed Cards
These cards are blank on the inside so you can write your own personalized missive. Blank cards are the perfect middle ground between versed cards and DIY greetings – they give you more room to draft a heartfelt message, but don't require any crafting supplies or skill to create. They also come with coordinating envelopes to make sending your holiday cards even easier.
We carry blank cards for Thanksgiving and Christmas. If you're heading to someone's house to celebrate Thanksgiving, pick up a box of greeting cards and take one along as a small token of thanks for the hosts. Here are our favorite Thanksgiving cards:
Shop for blank Thanksgiving cards in our holiday shop.
Take a look at some of our most popular blank Christmas cards:
Find more blank Christmas cards in our holiday shop.
What to Write in your Holiday Cards
Whether you opt for blank or versed cards, a handwritten message of greeting helps to personalize your correspondence. Your messages can be as short or as long as you like, depending on your preference and your recipient. Here are some tips for crafting your sentiments:
Start with a basic Christmas greeting, even if you're sending versed cards. A handwritten "Merry Christmas" or "Happy Holidays" adds a personalized touch, and can also get the ball rolling for the rest of your message.
Consider your recipient. Use details specific to the person you're sending the card to. Don't tell your grandma the same bawdy holiday joke you're sending to your younger cousin (unless your grandma is into that).
Use proper titles, especially if you're sending cards to business associates or colleagues.
Don't be afraid to use humor. Sentiment is important during the holiday season, but you want your greetings to be lighthearted and fun. Just be sure you don't offend your recipient!
Don't forget to sign your card!
Get Ready for the Holidays
Preparing and sending your holiday cards doesn't need to take hours. With pre-made Thanksgiving and Christmas cards, you get your holiday greetings ready to go in a few minutes flat.
Head over to our holiday shop to find the perfect card.
Get more holiday inspiration on our blog: